Events for Parents and Carers
The involvement of parents and carers at Woodnook is important and valued. This page will show any events that they attend as the year progresses.
Please keep a look out to see what they have been enjoying.
We are currently running Driving Theory Lessons for parents. Please see Mrs Khan for more details.
STEM Easter Challenge Workshop
Our Easter themed STEM workshop really had our children and parents thinking!
Challenge 1
Who can build the tallest tower from spaghetti and marshmallows which holds a creme egg?
The winning tower was Halleemas which was 47cm!
Challenge 2
Who can make a basket which will hold an egg safely as it travels along the zip line?
"We had lots of fun attempting the different challenges".
" I really enjoyed working as a team with my child".
It was a very interesting session. I'd like to attend more with my child".
"It took a lot of patience but I enjoyed it!"
Start Small, Dream Big Parent and Child Sessions
It was great to see so many parents at our first Start Small, Dream Big session.
Thank you for your positive comments:
" Zulaykha really enjoyed all of the different activities".
"I loved spending time with the children making Mother's Day crafts".
"Haris loved building with the lego. He woke up extra early today because he was so excited!"
"Aleena and Minahil had so much fun taking part in the different activities."
Parents Courses
Some of the parents took part in a six week Lancashire Adult learning English course. The parents had a great time and have asked for more courses in the future.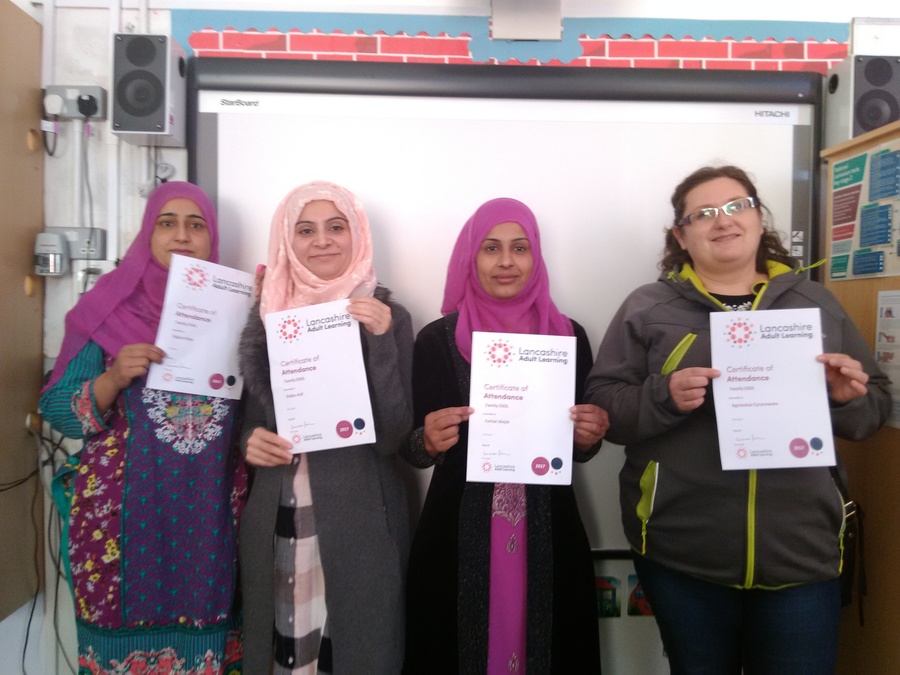 Lego Technics
The parents and children had a fabulous time working together to create a moving robot.
Watch out for another event like this which is to be arranged for the new year.